Experienced
BFN Industries has been powder coating, industrial painting and welding since the year 2000! BFN has the expertise and capability to handle any industrial painting job. We have experience in masking, precision powder coat jobs, Mil-Spec paint systems and much more! From powder coating to liquid coatings to welding, no matter how big or small, every project is our top priority and every customer is our most important.
BFN's management team has over 25 years of precision job shop powder coating and liquid coatings experience. We also have 25 plus years of Fabrication/welding experience in precision sheet metal.
Professional
BFN understands your powder coating needs for your business and we pride ourselves on our formal quality system and customer service. Every powder coat job is delivered just the way you want it, on time and on budget.
We've been a gold star member of the BBB since 2005 and we currently have an A+ Rating!!. At BFN, we know that your powder coating, liquid coating or welding job is critical being at the end of the production process, so we:
GUARANTEE that our quality and service meets or exceeds your expectations on each and every order! If something is not to your satisfaction we will gladly fix the problem in an expedient and hassle free manner.
Efficient
In our expanded full-service facility, no job is too big or too tough. With two 16' conventional baking ovens we can handle huge orders and still ensure a quick turnaround. We also have a metal fabrication and welding department and liquid spray capabilities. Our conveyor fed multi-station paint line can handle multiple jobs saving valuable time! BFN Customers can choose any of our wide variety of colors and finishes; we do veins, wrinkles, textures, transparents, glitters, clears and of course red, black, white, yellow green, gray and silver. If your project requires a specific color that is not standard we special order the powder to meet your needs.
Competitive
On top of it all, BFN offers competitive pricing too! BFN industries will pick up and deliver for a nominal fee. Call us for a free quote and find out how BFN can make your business better!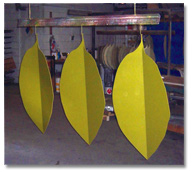 "BFN's service and quality have been outstanding since the first day." Eagle Information Systems, Inc.